About us
Primary Care Networks build on the core of current primary care services and enable greater provision of proactive, personalised, coordinated and more integrated health and social care, providing the basis for future collaboration with other providers (e.g. Community Trusts) where appropriate, and will work together to deliver specific packages of care
Our network is called Loughton, Buckhurst Hill & Chigwell PCN and we provide care for approximately 60,000 patients registered with the following 7 practices
The Loughton surgery
Kings Medical centre
Forest practice
Loughton Health centre
Rivers surgery
Palmerston surgery
Chigwell Medical centre

COVID-19 response
All our practices are now offering their patients telephone and video consultations and so the vast majority of patients are managed remotely which helps to minimise their exposure to infection.
LBC Network clinic consists of local practices (excluding Loughton health centre) working together to provide a service to manage patients who are covid-19 symptomatic, and who have a primary care need that cannot be managed through remote consultation, and require seeing a GP or a nurse face-to-face. This approach supports the workforce and ensures patients continue to have access to GP services throughout this pandemic.
The Network Clinic is a GP surgery site shared by the practices of the Loughton, Buckhurst Hill and Chigwell area. It is being used to assess patients who have symptoms of the Covid19 infection to see if they may need admission to hospital.
The clinic is staffed by members of the local GP surgeries, working together during this challenging time. They will have access to patient medical records which will ensure we are able to offer the best possible support.

Opening times: 1-5pm Monday to Friday
Attendance is strictly by appointment only, and can only be accessed by your own GP or Nurse practitioner.  Patients are strongly advised not to present themselves as they will not be seen and will be putting themselves and other in risk.

Patient instructions & directions leaflet (PDF)

Network clinic Location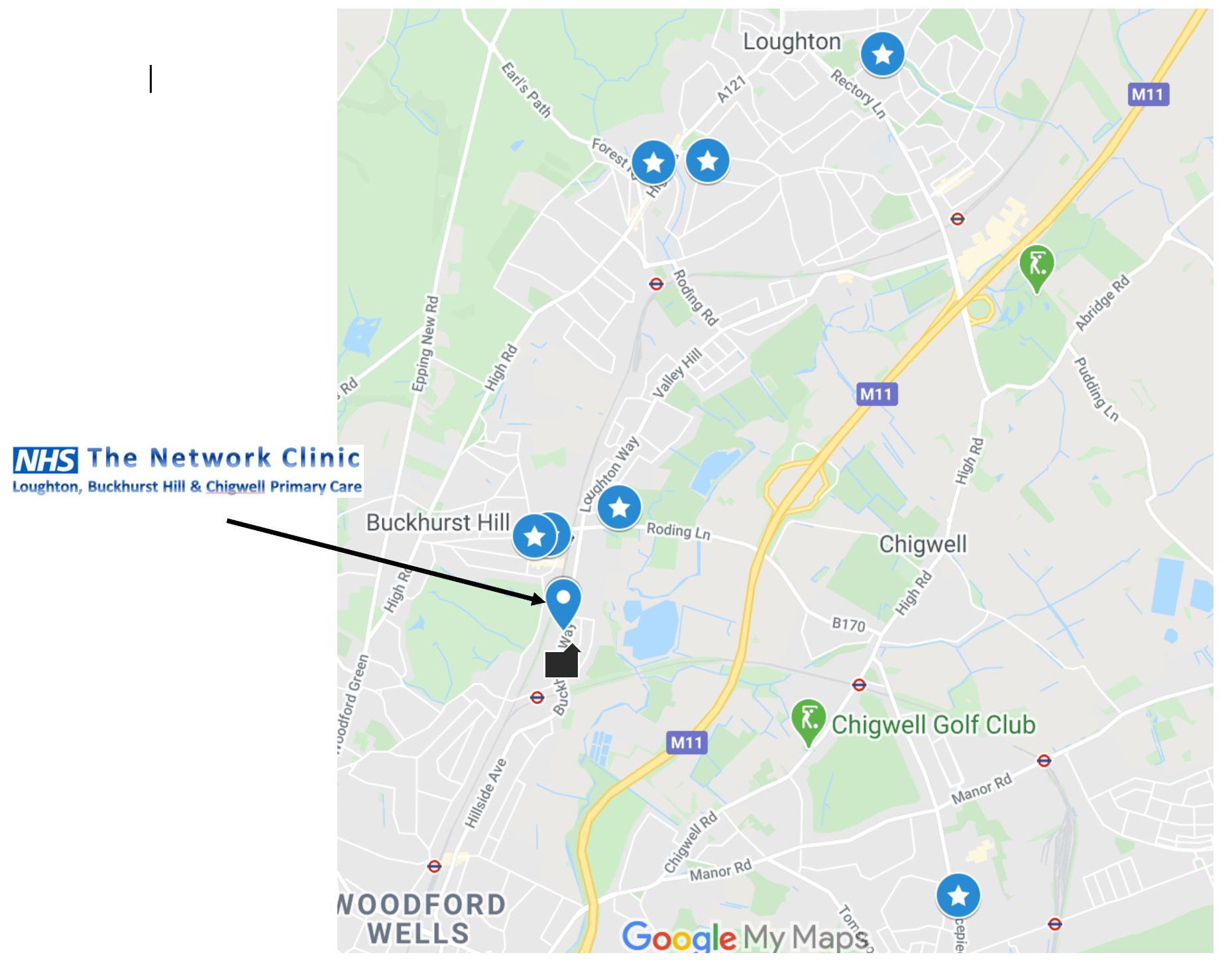 Drive through instructions